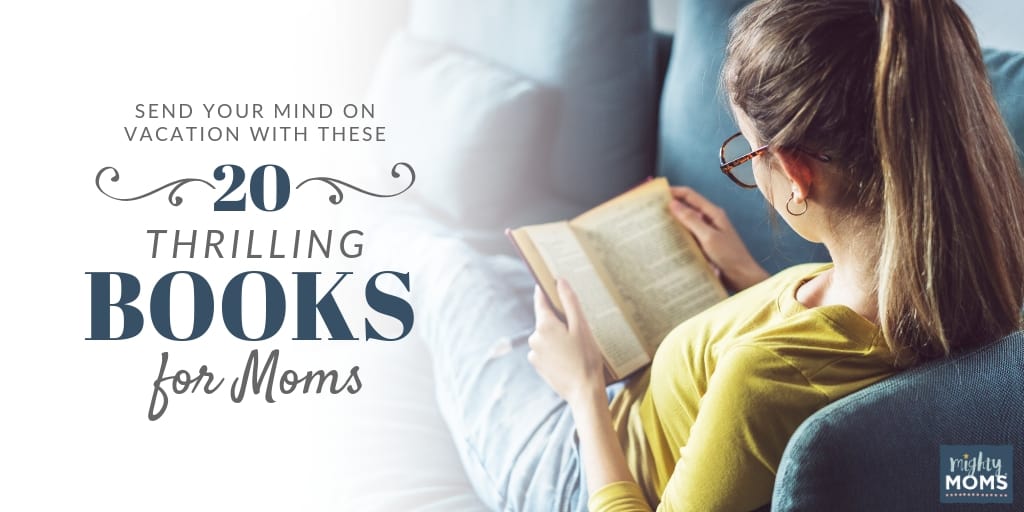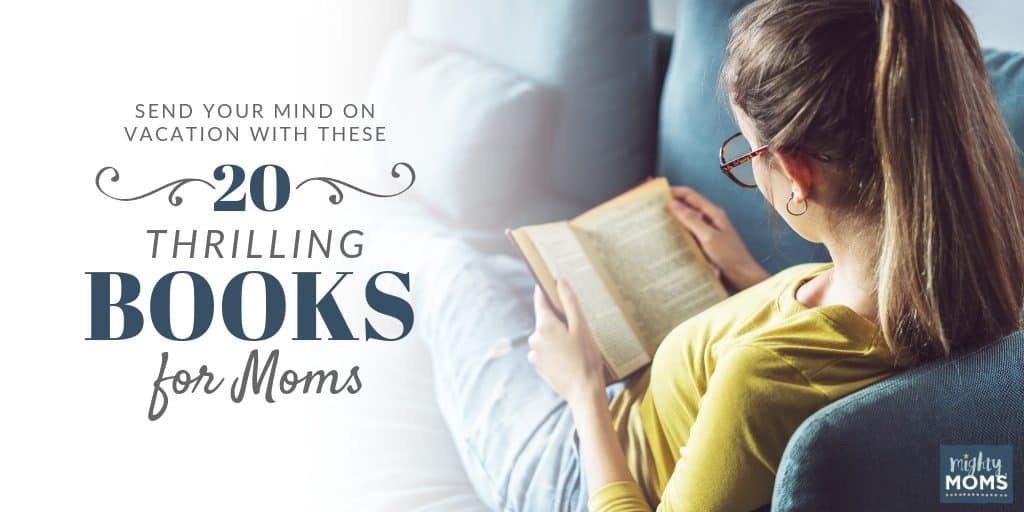 What if I told you that you could go on a vacation (of sorts) for less than $20? You don't even have to pack anything.  All you need is, literally, a good book, and presto! A vacation for your mind!
These 20 books for moms is exactly what you need to escape from the emotional highs and lows of everyday life. They are the perfect reward for a long day, hard fought.
Books for Moms: YA Edition
In preparation for your mind vacation, I'm going to take you on a book edition tour of Young Adult Island. Our stops include:
Middle-Grade Standouts
Made-into-a-Movie Winners
Complicated Characters
Intriguing Thrillers
Moody Mysteries
You might be thinking, "Young adult books? I haven't been a 'young adult' in [insert number here] years!" Same, friend. But I still love reading young adult (YA) books because they can deal with serious topics in more lighthearted ways than adult fiction.
Plus, sometimes, they're not serious at all—just the sort of book you need to give your mind a vacation. Our tour today will show you all sorts of YA books, so no matter what you're in the mood for, I think you'll find the perfect fit.

Don't Have Time for Reading? Listen Instead
Heather here. These days my life is spent running around town and cheering at volleyball games. My rocking chair looks neglected and my reading shelf is dusty.
If this feels like your life…Improvise. Adapt. Overcome. Or, in other words, start an Audible subscription. I listen to books while I'm folding laundry, making dinner, and in those rare moments when I'm alone in the car, playing chauffeur.
Right now, I'm on a Terry Pratchett kick (a cleverly hilarious writer), but as soon as that's finished, these are the books I'm going to next! Another laundry load to fold? No problem.
Books for Moms Stop #1:
Middle-Grade Standouts
The first stop on our tour is a unique subset of YA fiction known as middle-grade. It's geared towards, you guessed it, middle school students.
And you know what? With all the stressors in your life right now, a little middle-school intensity may be all you can handle, and that's okay.
Who said that appropriate books for moms have to be intense? Bring on the fun.
Middle-School Books for Moms: The Doldrums
The Doldrums by Nicholas Gannon: Archer Helmsley's grandparents were world-famous explorers, until they got stuck on an iceberg and never came home. Now his mother is super protective of him, but adventure is in Archer's blood.
He decides to go on his own quest to find his grandparents, asking his friends Adelaide and Oliver along for the ride. The tone of this book is so fun (it reminded me a lot of the movie Up). 
The Detective's Assistant
The Detective's Assistant by Kate Hannigan: Newly orphaned 11-year-old Nell Warne is sent to live with her Aunt Kate, who is a detective for the famous Pinkerton Agency. Nell becomes embroiled in her aunt's cases, including one involving Abraham Lincoln.
The character of Aunt Kate is based on the real first American female detective, and it's a lot of fun to read about the time period from a young girl's point of view.   
Wonder
Wonder by R.J. Palacio: August, aka Auggie, Pullman is a typical 10-year-old boy in most areas except for one–he was born with face abnormalities that make him look strikingly different from a "normal" person. He has been homeschooled all of his life, but for 5th grade, he heads to public school for the first time.
The book changes perspectives from Auggie's to his family to the other people he interacts with, creating a combination of connections and insights into being different and being kind to one another. (Bonus: this book has been made into a fantastic movie!)   
Loot
Loot by Jude Watson: The book opens with the death of Alfie McQuinn, a cat burglar. With his dying words, he tells his son March to "find jewels." It takes March a little while to figure out his dad wasn't talking about diamonds or rubies, but something else even better.
This is a fast-paced, well-written book where you root for the kids, even if they're involved in some less-than-savory things. 
Books for Moms Stop #2:
Made-Into-a-Movie Winners
Sometimes we all need a little incentive to pick up a book. Our second destination in this "Books for Moms World Tour" has just such a perk–all of these suggestions have been made into movies.
Regardless of whether you're in the camp of "Must Read the Book Before Seeing the Movie" or the camp of "See the Movie First, Duh," these books are entertaining in their own right.    
Movie Books for Moms: Ready Player One
Ready Player One by Ernest Cline: This book is set in the year 2044, when the world's economy is terrible and everything looks pretty bleak. Citizens spend their time in a virtual reality called OASIS, a multiplayer online game that has morphed into its own universe. When the creator of OASIS dies, he leaves a series of clues hidden in OASIS that, once solved, will give the solver his fortune and control over OASIS.
Even if you aren't a video game lover, the 1980s pop culture references and fast-paced excitement are fun! Plus, Steven Spielberg directed the movie adaptation, so you know it's going to be good.   
This book has its gritty moments, so if foul language and innuendos bother you, you may want to leave it on the shelf.
Five Feet Apart
Five Feet Apart by Rachael Lippincott: Stella and Will don't have your typical romantic comedy meet-cute in this novel—they meet in the hospital because they both have cystic fibrosis. Stella is dead set on getting on a lung transplant, whereas Will doesn't care about his treatments at all.
They're supposed to be six feet apart at all times due to the risk of infection, but as they get to know each other, moving one foot closer doesn't seem so risky. If you enjoyed John Green's The Fault in Our Stars, this will be your next favorite thing.
The Hate U Give
The Hate U Give by Angie Thomas: This book focuses on Starr, an African-American teenager from a poor neighborhood who attends a mostly white, prestigious prep school in another part of town. One night, after being pulled over, she witnesses the white cop shoot and kill the black friend she's with. Suddenly, she's at the center of a racially-charged investigation into the shooting while still dealing with the tension between the two parts of her own life.
THUG has received a plethora of awards and starred reviews, and the movie version looks to be just as good.
Everything, Everything
Everything, Everything by Nicola Yoon: Forgive me for including another book in a similar vein to The Fault in Our Stars, but the creativity in how Yoon told this story is just so fun. The main character is Maddy, who is literally allergic to the world and has to stay in her house at all times. She dreams of being able to leave, and those dreams become even greater when a new guy moves next door.
A lot of this book is told in different formats, which is really enjoyable to read. Naturally, the two teenagers fall in love, and that's when things get even more complicated. It's a pretty quick read, and, in my humble opinion, the movie is one of the better book-to-movie adaptations I've seen.  
Books for Moms Stop #3:
Complicated Characters
The third stop on our trip embodies what I love about a good YA novel–it presents teenagers as complex humans who face a lot of the same things as adults. Of course, the characters have to deal with their problems while still navigating school and figuring out their place in the world, so things aren't quite the same.
In the following books for moms, the characters all face dilemmas that affect their lives, and seeing how they change over the course of their stories is really fascinating.  
Character Books for Moms: Turtles All the Way Down
Turtles All the Way Down by John Green: Green's ability to characterize teenagers is impressive, especially considering that his characters typically face challenging situations. Aza, the main character here, struggles with obsessive-compulsive disorder and anxiety, neither of which is treated lightly in the narrative.
She and her best friend Daisy decide to search for a missing billionaire to earn the $100,000 reward. This decision brings an old friend and new complications into Aza's life, and her OCD and anxiety eventually spiral out of control. Aza has to figure out what kind of life she wants for herself while not hiding from her mental health.   
Holding Up the Universe
Holding Up the Universe by Jennifer Niven: Niven is so good at creating complex, likeable teenage characters. (If you haven't read her book All the Bright Places, you totally should.) The two main characters in this book, Jack and Libby, both have issues. Jack is a popular guy whose image is hanging on by a thread; no one knows he suffers from a neurological condition that makes it impossible for him to remember people's faces.
Libby is starting high school after being homeschooled for several years; she was once named "America's Fattest Teen" and had to literally be cut out of her house in order to receive help. Jack and Libby get thrown together after he is pressured into playing a joke on her, and they forge a surprising friendship. 
Boy21
Boy21 by Matthew Quick: Finley, the protagonist in this book, is a senior in high school who loves basketball and his friend/girlfriend Erin. He lives in a poor town that's segregated between Irish-Americans and African-Americans, and their respective gangs play a large role in the plot.
Boy21 is the nome de plume of Russ, who transfers to Finley's school and joins the basketball team. Finley's coach asks him to look after Russ—the new kid is a superstar basketball player, but he's suffering after a tragedy in his life and refusing to play. There are a lot of complex elements in this book, but Quick ties them all together while creating a really stellar friendship between Finley and Russ. 
Eleanor & Park
Eleanor & Park by Rainbow Rowell: For some of you, all I have to say is that this book is a teenage romance set in 1986, and you're all in. For the rest of you, a few more details–Eleanor and Park meet on the school bus. She's the new girl in town, and he's the quiet loner guy who loves comic books. Eventually, they bond over said comic books, and their friendship grows into something much more.
Since this is Complicated Cape, their relationship is not easy. Park is dealing with identity issues revolving around his Asian-American heritage and how to be a man in his ex-military father's eyes; Eleanor has an abusive slimeball for a stepfather and little siblings to protect. This is one of those books where you root so hard for the characters to be happy, and their story will stay with you long after you're done reading.
Books for Moms Stop #4:
Intriguing Thrillers
We've now come to the darker side of Young Adult Island. Our fourth stop includes books for moms that are less fun and bubbly and more suspenseful and thrilling. If a story a la The Bourne Identity or Mission Impossible is your jam, then you'll want to spend some time exploring this spot. 
Thrilling Books for Moms: All Fall Down
All Fall Down by Ally Carter: After the death of her mother, Grace is sent to live with her grandfather, a US ambassador, on Embassy Row (the home of several nations' embassies). She knows her mother was murdered, and she intends to get justice. Two problems: people think she's crazy, and life on Embassy Row brings its own tension.
There's an etiquette to maintain; one wrong move can have disastrous effects on not only people, but entire nations. This is the first book in a series, so you'll want to have the follow-up ready to go after you read it.
Burning Blue
Burning Blue by Paul Griffin: Nicole Castro is the most beautiful girl in her school, and everyone knows it. However, that all changes one day when someone throws acid on her face, leaving her physically and emotionally scarred. Who could have done this to her?
Jay Nazarro, one of Nicole's classmates, is a loner with mad hacking skills. He knows what it's like to be picked on, so he decides to figure out who attacked Nicole. The two eventually become friends, and their relationship stabilizes them as they try to uncover the truth behind the attack.
Griffin does a superb job of keeping you guessing about the possible suspects, and let me tell you—the ending will blow your mind. 
The Last Thing I Remember
The Last Thing I Remember by Andrew Klavan: Charlie West wakes up tied to a chair, bruised and bloody, with absolutely no recollection of how he got there. He's just a normal teenager—how did he end up being kidnapped and tortured by an unknown organization?
This book will keep you on the edge of your seat as Charlie works to solve the mystery of his lost memory and disappearance. It's the first in a series, so be prepared for a cliffhanger ending!
All Our Yesterdays
All Our Yesterdays by Cristin Terrill: Em and Finn are prisoners. All Em knows, besides Finn's voice in the cell next door, is a list of instructions hidden in her drain. These instructions tell her how to travel back in time, with the goal of stopping someone from creating a time machine. In an alternate timeline, Marina and James are best friends and neighbors.
James, a brilliant science prodigy, endures a family tragedy that sets him on a dark path. Marina is in love with him, but as he becomes more and more distant and obsessed with a project, she realizes he may be beyond saving. How Terrill brings both of these storylines together is incredible.
Books for Moms Stop #5:
Moody Mysteries
The fifth and final stop on our island tour takes us to a much less traveled locale, with books that might not be everyone's cup of tea. While the books at our last stop were James Bond-type action/suspense reads, the ones listed below are more psychological thrillers/mysteries (think Gone Girl).
They may not be your typical vacation reads, but these books for moms will definitely take your mind off of what's going on in your own life.  
Mystery Books for Moms: All the Truth That's in Me
All the Truth That's in Me by Julie Berry: Judith has been missing from her small town for four years. When she returns, she isn't physically able to tell anyone what happened to her, and so she lives as an outcast among her friends and family. This novel is told in 2nd person, with Judith speaking to "you."
As the reader, you'll eventually figure out which character she's speaking to, but using 2nd person makes you feel like you're a part of the story. Some of the subject matter surrounding Judith's disappearance is dark, but this is ultimately the story of her regaining her freedom and finding her voice once again.
Made for You
Made for You by Melissa Marr: Eva Tilling is well-liked in her small, Southern town, thanks to both her own reputation and her family's old money. That's why it doesn't make sense for someone to hit Eva with their car, sending her to the hospital. If that isn't weird enough, Eva wakes up after the accident with a strange new ability—she can see people's deaths when they touch her.
Eva tries to make sense of her ability and her accident as things in her town become more and more dangerous. There's a killer on the loose, and it looks like he or she has an obsession with Eva. Was the hit-and-run an accident? Why is the killer focused on Eva? Marr keeps you in suspense throughout the entire book, and the ending is appropriately creepy and satisfying.    
One of Us is Lying
One of Us Is Lying by Karen M. McManus: Entertainment Weekly called this book "Pretty Little Liars meets The Breakfast Club," and it's a pretty apt description. Five students from various social circles have detention together one day after school. Before their time is up, one of the students is dead.
Police are saying it's not an accident, and all four of the other students are suspects. McManus gives us the perspective of each of the four suspects, which really makes it hard (in the best way!) to pinpoint which one of them killed their classmate. One of Us Is Lying will keep you guessing right until the end.  
The Sacred Lies of Minnow Blye
The Sacred Lies of Minnow Bly by Stephanie Oakes: Two important things to know about this book: it's gorgeously written, and it has some pretty disturbing imagery. I know some people can shoulder through difficult scenes when the book overall is good, and some people can't. If you're one of the latter types of readers, this might not be for you.
It tells the story of Minnow, who is serving time in a juvenile detention center. Through flashbacks, we learn that she and her family used to be part of a cult. The cult's camp has been burned, the leader is dead, and Minnow's hands have been cut off. It's up to an FBI agent to piece all of Minnow's information together to figure out what really happened. The material is definitely serious, but Minnow is a very likeable character, and the book ends on a hopeful note.
YA Books For Mom:
Ready to Set Sail on Your Next "Vacation"
Folks, that concludes our tour of Young Adult Island. I hope you've found some new books to add to your Amazon cart!
Tuning out the world with a good book is a great way to send your mind on vacation, whether that's as you slide into the sheets at night, or by listening while folding laundry.
So, grab a treat, cuddle up in your favorite spot, and crack open a book. 
There, isn't that relaxing? 
Have You Read These Yet?
We ♥  honesty!  This post contains affiliate links that provide extra money for our mutual coffee habits addictions. Click here to learn more. As an Amazon Associate I earn from qualifying purchases.