This post is sponsored.  This means we were asked to review or try something new, and then remunerated to share those thoughts.  Since you are reading this post, it ALSO means that we enjoyed the experience. Friends don't let friends make false recommendations!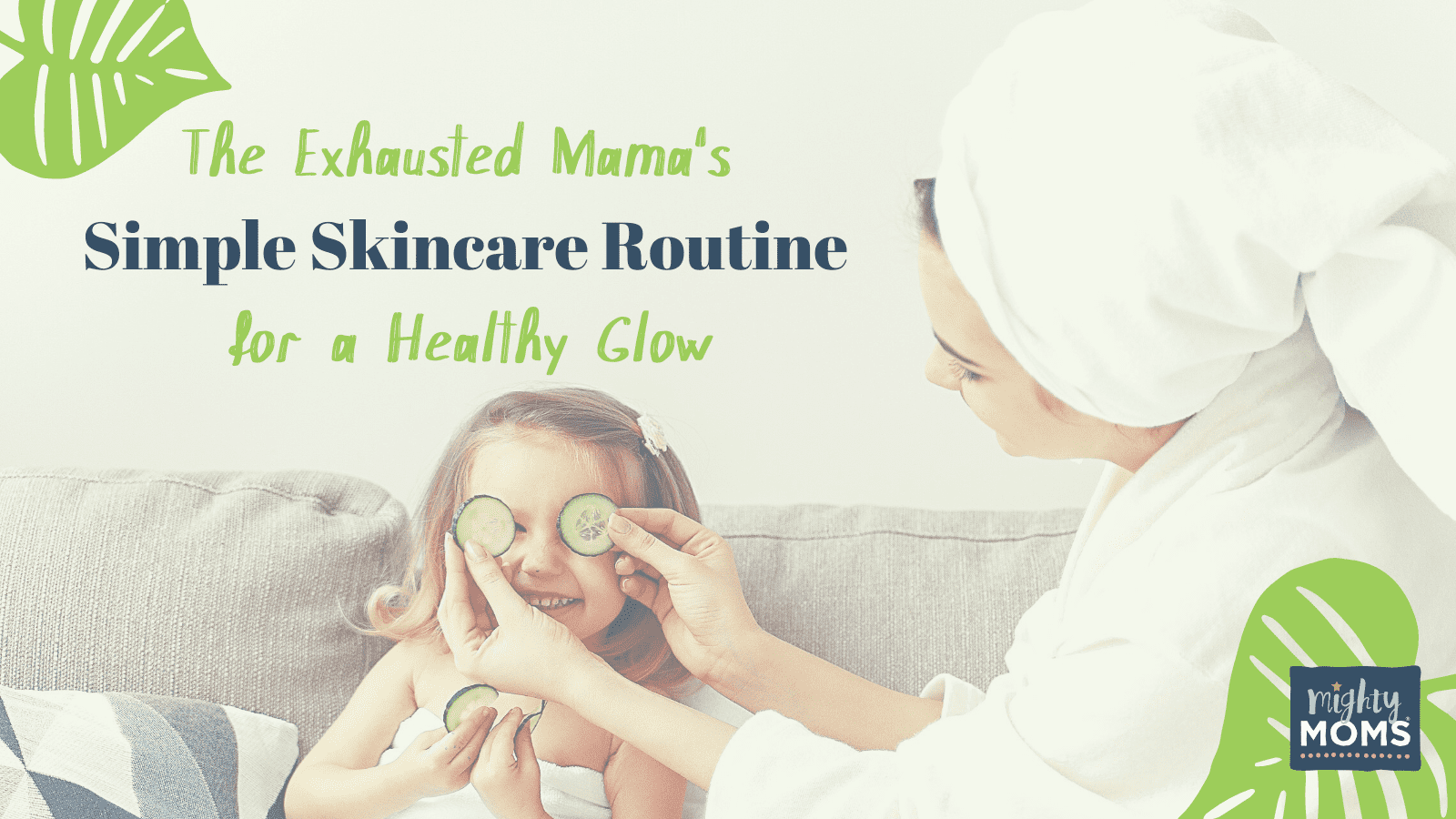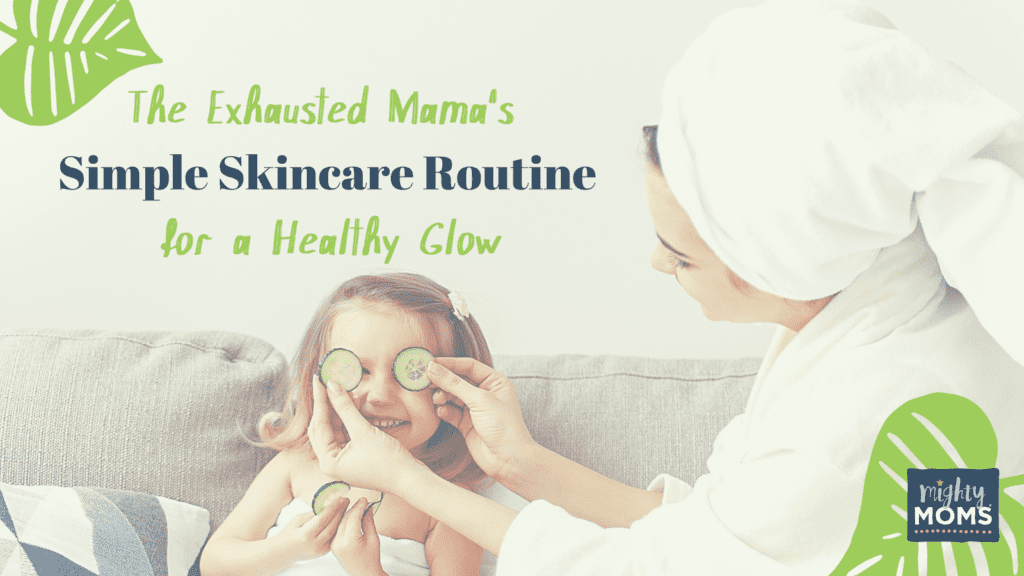 Being a mother is exhausting. The idea of adding a skincare routine to your bedtime ritual (besides "get into the shower") can feel overwhelming.
Don't skip it.
I recently had a dermatologist appointment (yes, that happens when you wave goodbye to your thirties), and was pleasantly surprised when the doctor complimented me on my skin.
Why was I surprised? Because I'm not really a skin fanatic. I don't have shelves of skincare products. I don't have a regular monthly "Spa Day".
I do, however, do a few things every night that have (according to my doctor) had a huge impact now, years later.
Today I'm going to walk you through three simple skincare routine must-haves.
I know you can do these things because I do these things, and I'm pretty gosh-darn lazy when it comes to the end of the day. (As in, get-me-on-that-pillow-as-soon-as-possible.)
It's time to fool people into thinking you're NOT exhausted by pampering that skin of yours into a healthy glow.
When is the "Right" Time to Implement
this Simple Skincare Routine?
But before I unpack those simple steps (with cited resources, of course), I've got to tackle the "when" question.
When should you do your skincare routine? In the morning? Or at night?
It depends.
I'm a night owl, not a morning dove, so I rarely have time in the morning to do more than brush my teeth, do a quick spritz, brush my hair and slap on some SPF foundation.
That said, if you are a morning dove, dermatologists say that it's okay to follow this simple skincare routine in the morning. So don't let anyone bully you. Pick a time that fits your personality and lifestyle best.
A Simple Skincare Routine Has 3 Steps
(Otherwise It's Not Really 'Simple')
When I say "simple skincare routine," I mean it.
Three steps is the maximum amount of effort I think can be maintained every day for a busy mom.
If you can do more…five gold stars. But I don't think you should guilt yourself into following some celebrity's (*cough* Gwyneth *cough*) so-called twelve-step "simple" skincare routine.
Step One:
Get Rid of the Daily Grime
The obvious first step to your simple skincare routine is to cleanse away all the dirt, sweat, and grime that accumulates over a long day (or a long night).
The Unexpected Benefits of a Powdered Exfoliator
Ready to be surprised? More and more dermatologists are recommending you switch from a cream-based exfoliator to a powder-based one like Planta Buff.
Put a small amount of the powder in your hand.
Add water or your favorite cleanser and mix with a finger until you get the consistency you're looking for. (Usually thicker in the summer and thinner in the winter.)
Apply to your face in a circular motion.
Wash with warm water.
Yes, it's a little different than you may be used to…but it's worth the switch. Here are four reasons why I think you should give a powdered exfoliant a try.
Reason #1: It's Customizable
Your skin changes throughout the year. The amount of exfoliation it needs in the summer is going to be different in the colder and drier winter months.
By using a powdered exfoliate like Planta Buff, you can vary the amount, using a thicker, grittier exfoiliant in those sweaty months and less in the dry months.
Reason #2: Fewer Preservatives & Gunk
Since the exfoliant isn't in liquid form, it doesn't need all those extra preservatives to keep bacteria from growing in the water. Fewer preservatives means it's less likely to irritate your skin or slip chemicals into your body.
Planta Buff uses all-natural ingredients and is free of parabens, phthalates, benzoyl peroxide, sodium lauryl sulfate (SLS), and other synthetic colors or fragrances.
Here are just three of the ingredients in Planta Buff that help give your skin a healthy, acne-free glow. (Click here for the full list.)
Adzuki – a natural foaming agent that draws out impurities and promotes healthy circulation. Fantastic for acne-prone skin because of its antioxidant and antimicrobial properties.
Black Rice – A powerful antioxidant (anthocyanin) that will protect your body from free-radical damage from the outside, in. Great for blemishes, wrinkles and hyperpigmentation.
Rosehips – Known for its ability to regenerate new skin skills, which means fading scars, evening out skin tones, and flattening wrinkles.
Reason #3: It's More Cost-Effective
Most of those liquid or cream-based exfoliants are water, so when you purchase a powder-based exfoliant, you are stretching your pennies.
Not only are you getting more base product for your buck, you can stretch that even further by adding more water to the powder.
Reason #4: It's Travel-Friendly
Since powdered exfoliants are non-liquid, you can pack them without having to worry they will explode in your suitcase or be confiscated by the grumpy TSA agent in the security line.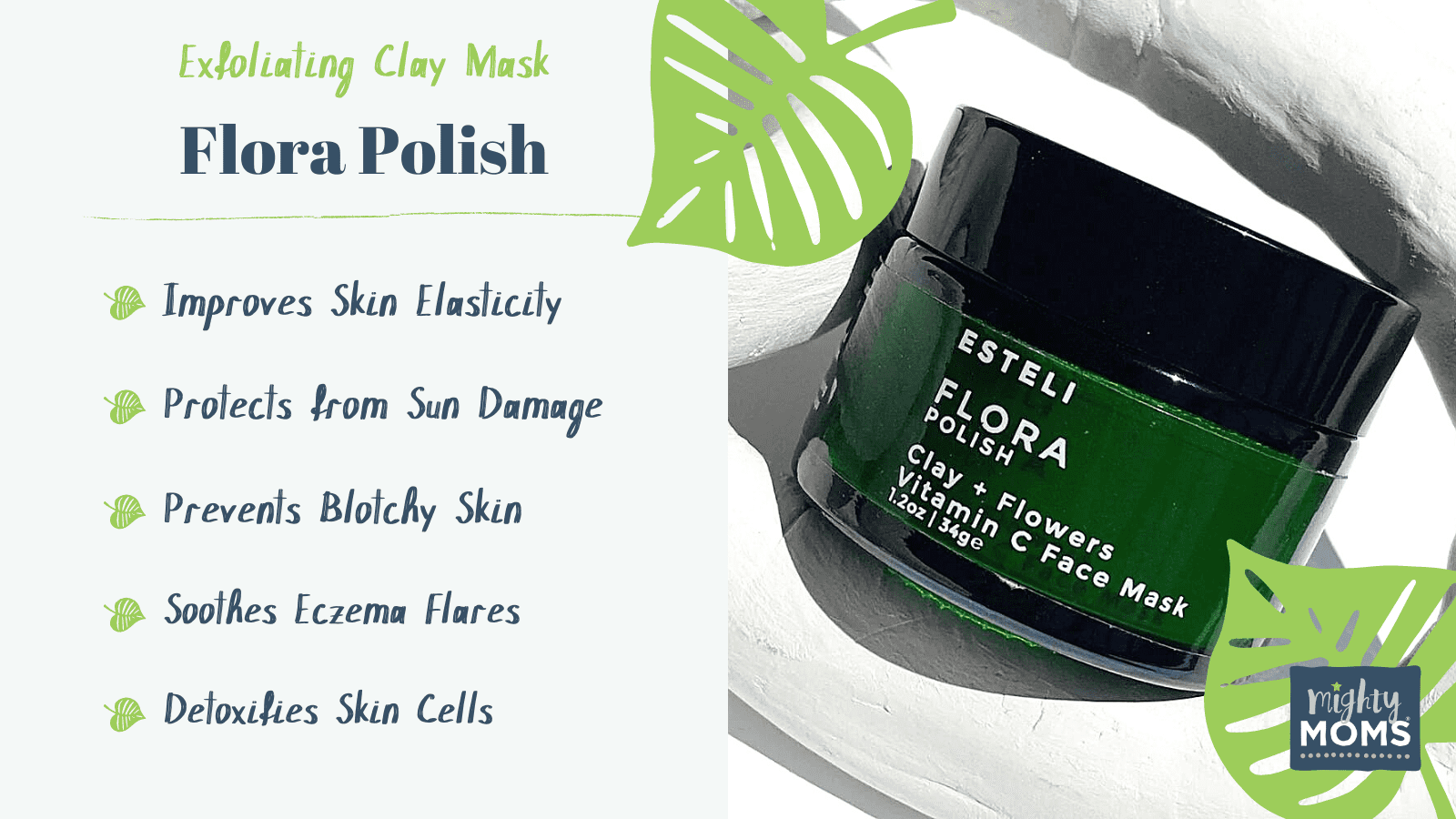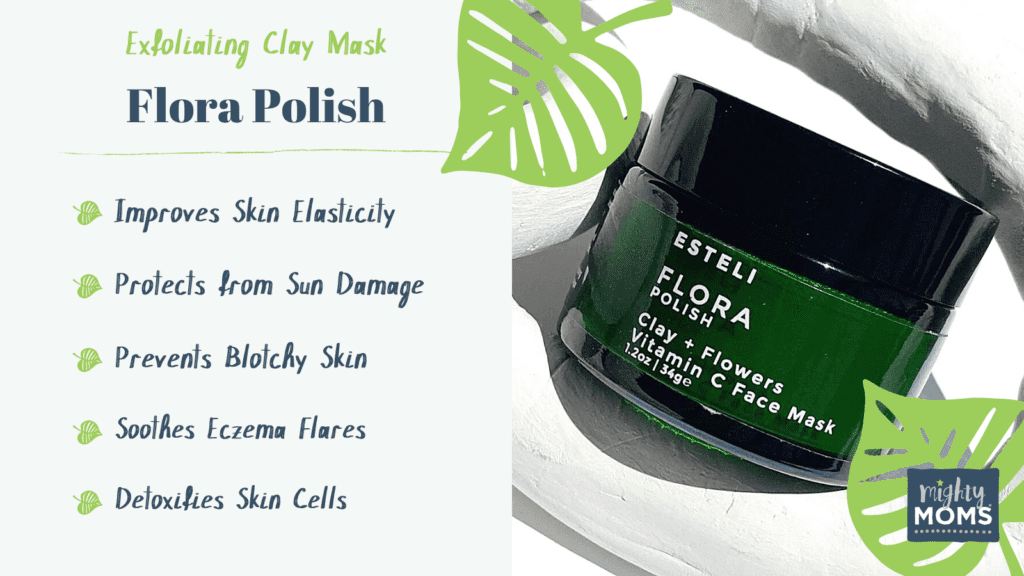 BONUS: Floral Polish Clay Mask
Okay, so this technically isn't part of the three-step simple skincare routine…but let's say it's a Saturday night, the kids are in bed, and you've got a bottle of wine in the fridge.
Why not take an extra five minutes to dab on a Floral Polish Clay Mask?
And I do mean five minutes. I was emailing with Esteli Body founder Adriana Green about this heaven-scented clay mask, and she sent me this tip:
Always rinse it off before it completely dries, otherwise it begins to draw moisture from the skin. (This article explains in more detail.) I don't know about you, but as a teenager I thought the longer I left it on, the more benefits I'd get.

In hindsight, I realize how that misinformation helped moisturizer sales…back when the mainstream skincare model was all about stripping skin (remember Stridex pads!) and then slathering it in oil-free moisturizers. We've come a long way in understanding how to care for our skin and how it takes care of us!

–Adriana Green, founder Esteli Body
So you don't have to set aside 20-minutes to add a weekly (monthly? quarterly?) face mask! Five minutes and you're golden.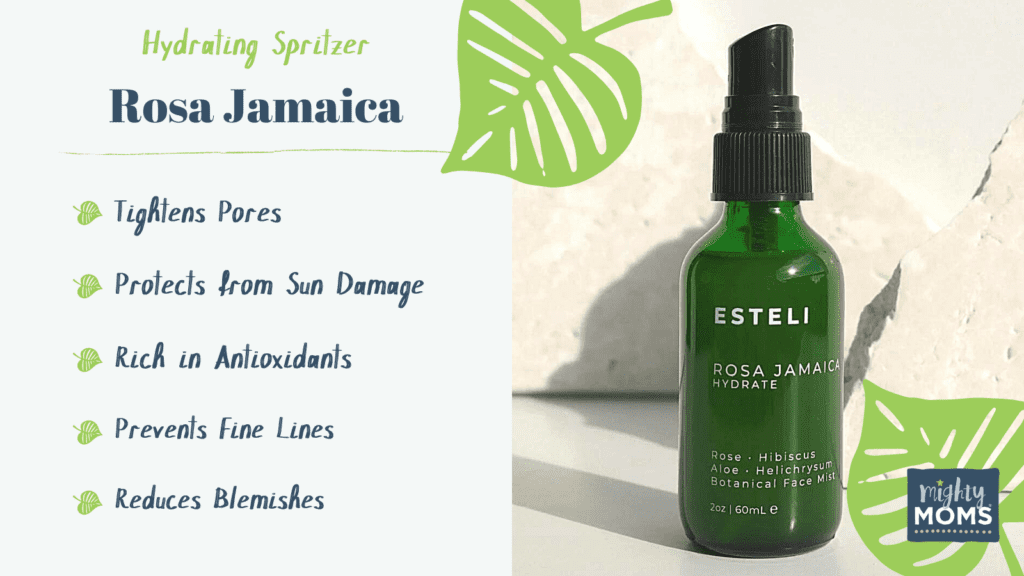 Step Two:
Spritz & Freshen
Okay, this is my absolute favorite step in my simple skincare routine.
In fact, I love it so much, in the morning I will skip the other two steps and just do this quick spritz spray before putting on my SPF makeup and heading out the door.
It smells amazing, for one thing. (Aromatherapy is the new perfume.)
It feels amazing, for another. It's a refreshing little boost.
Like I just stepped out of a Hawaiian spa on my way to the beach. (Instead of putting on my heavy winter coat to take the kids to school on a snowy Wisconsin morning.)
Once you've spritzed a healthy moisturizing mist onto your thirsty skin cells, it's time to lock that hydration in with a nutritious face oil.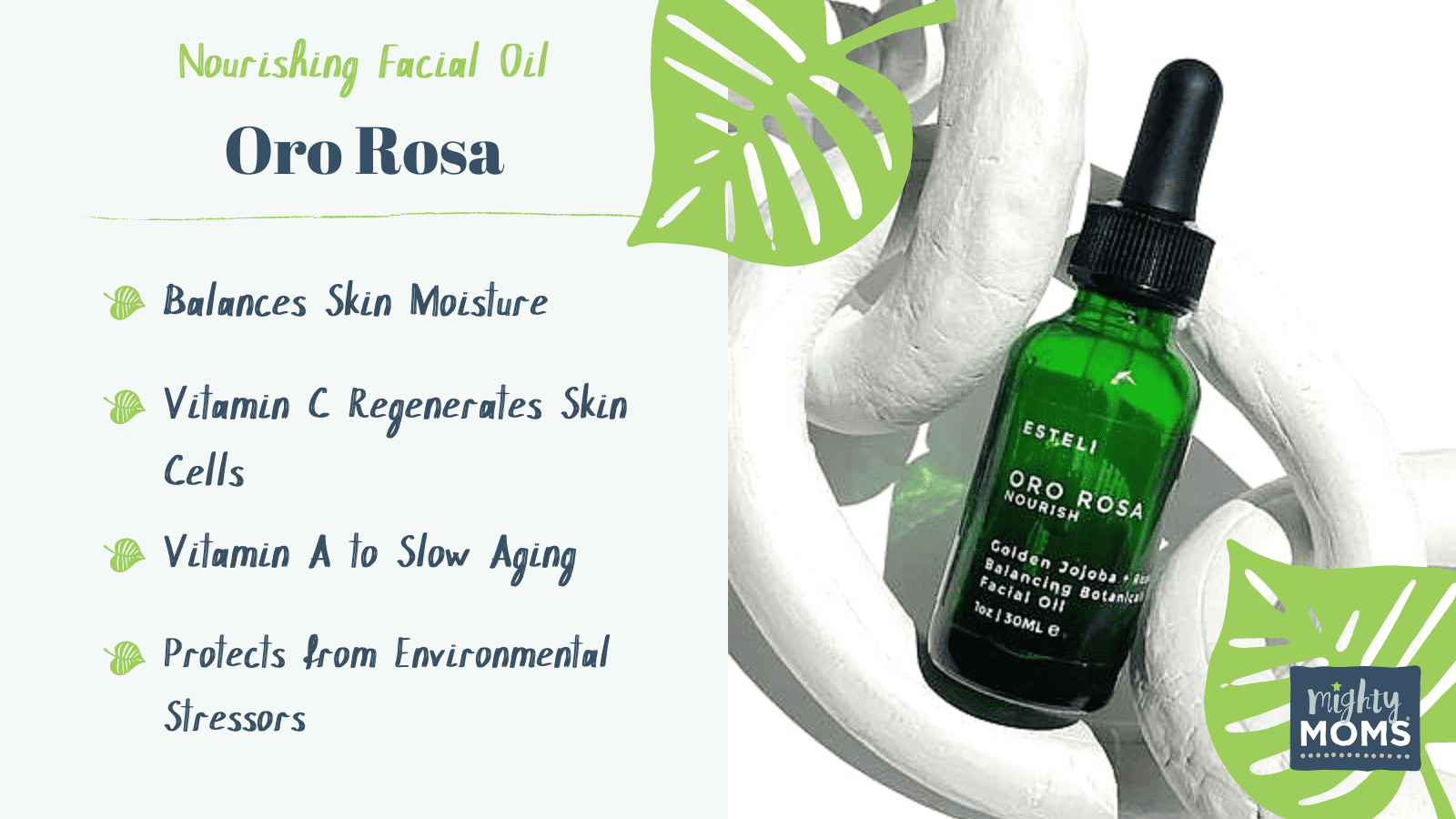 Step Three:
Feed Those Skin Cells Some Nutrients
Now that we've got a literal clean slate to work with, it's time to feed those freshly scrubbed skin cells with the nutrients they need to really thrive (and glow!)
Vitamin B – Protects those cells from environmental stressors.
Vitamin C – Boosts the regeneration of new skin cells, which means fading scars, evening skin tone, and minimizing wrinkles.
Vitamin A – Firms and tones the skin
Vitamin E – Slows down the aging process (yes, please!)
You can find all of those vitamins, in their natural form of course, inside the Oro Rosa Nourishing Face Oil. A few drops of this will satisfy those hungry skin cells all day long.
The Surprising Thing About Oily Skin
I can hear your thoughts, though: I have oily skin. Why would I want to add a face oil to my simple skincare routine?
First of all, let's address why you have oily skin. Ready for a shocker?
Oily skin is a sign of dehydration. (Proof here.)
When the skin barrier dries out (a common problem in the colder, drier months), it overcompensates for the lack of moisture by over-producing oil.
So your best defense against oily, acne-prone skin is to keep it clean and give it a healthy dose of the nutrients it's desperate to soak in.
Smell Amazing, Feel Amazing:
Save 20% with Code HAPPYMAMA
Esteli Body wants to help you kick off the year with this simple skincare routine by offering a 20% discount to your order with code HAPPYMAMA.
Just head here, load your virtual cart with the all-natural products that will give you that (deceptive) well-rested glow, and pop that code into the discount box!
Want a Boost to Your Mental Health?
Take a Few Minutes to Care for Yourself
I realize it's hard, when the kids are this young, to feel like you're really taking care of yourself.
Showering can feel like a luxury.
But the best thing you can do for your kids is to take a few minutes during the day to take care of yourself.
You'll have more patience. You'll smile more. You'll hug often.
And when your toddler does what he does best… being a toddler… you'll have the mental space to handle it without a complete and utter breakdown.
For me, that started before bed the night before, with a simple skincare routine, and a quick spritz in the morning.
Not only will you feel like you're doing something for yourself now, you'll be able to high-five your dermatologist someday in your forties.
Here's what you need to get your skin glowing again:
Rosa Jamaica Hydrate Face Mist (my personal favorite)
Don't forget to use code HAPPYMAMA to save 20% when you place your order.
Your skin will thank you in the decades ahead!
We ♥  honesty!  This post contains affiliate links that provide extra money for our mutual coffee habits addictions. Click here to learn more. As an Amazon Associate I earn from qualifying purchases.
Cited Resources
How to Build a Skincare Routine. NYTimes.com
Your Skincare Routine Actually Only Needs These Three Things. Self.com
Simple Steps to the Best Daily Skincare Routine, According to Dermatologists. GoodHousekeeping.com
Powder Cleanser is the Best Way to Exfoliate Without Wrecking Your Skin Barrier, According to a Derm. WellandGood.com
The Best Way to Wash Your Face, According to Dermatologists. NBCNews.com
Adzuki Beans Are a Must for Oily, Acne-Prone Skin Types. Byrdie.com
9 Ways to Use Rosehip Oil for Your Face. Healthline.com
The Right Way to Use a Clay Face Mask. Allure.com
Nutrients for Healthy Skin. WebMD.com