This post is sponsored.  This means we were asked to review or try something new, and then remunerated to share those thoughts.  Since you are reading this post, it ALSO means that we enjoyed the experience. Friends don't let friends make false recommendations! 
Nothing can boost your mom-esteem quite like being the first to know things.  All the sudden, you turn from "regular friend" to "friend who knows things".
Today, I'm going to grant you "knowing status" of a particularly juice piece of baby gossip.  Gossip that your friends are going to want you to share. Especially those using baby formula.  Why?
Because there's a brand new baby formula that has added something no other baby formula has ever added before.  It contains one of the "magic ingredients" that gives breastfeeding babies a big boost in their immune system.
Yep.  You heard me correctly.
A formula-fed baby can now benefit from an immune system-supporting ingredient similar to breastfed babies.   That's the first piece of knowledge that will stir up your mom group.
Want to know the second piece of juicy baby gossip your friends will want to know? It launched this week, so you can have it sent directly to your doorstep tomorrow.
The Biggest Step for
Baby Formula in a Decade
Obviously, you're going to need a bit more in your knowledge cap than that.  They are going to have questions.
If you remember from my post a few weeks ago, HMO's are prebiotics that support the probiotics that live in your baby's gut – which, you should know, is where 70% of your baby's immune system exists.  2'FL HMOs are special because they go to the gut and beyond, circulating all around your baby's body.
2'FL HMOs = Healthy Gut Support
Healthy Gut Support = Super Awesome Immune System
These HMOs are one of the reasons breastmilk is such a nutritional powerhouse.  Obviously, breastmilk is still the greatest nutritional powerhouse, but since not every mother breastfeeds, there's been an immunity gap between breastmilk and formula.
An immunity gap that shrunk significantly this week when Abbott's Similac launched the first formula with magical 2'FL HMOs.
Results from an Abbott sponsored clinical study on HMOs were just published in the Journal of Nutrition.  This study looked at the immune response of 200 babies, divided into three feeding groups.
Exclusively breastfed babies
Babies drinking formula without 2'FL HMO added
Babies drinking formula with the 2'FL HMO added
At the start of the study, five immune markers were different between the breastfed group and formula-fed group. After six weeks, results showed that those five markers were nearly identical when comparing the breastfed group and the group fed formula with 2'-FL HMO!
You can see why I'm excited!
It's a major development in the quest for better baby formula!
Give Your Baby an
Immune System Power-Up
If you are a formula-feeding parent, this is the news your baby has been waiting for.  Similac currently has two formulas available with the added 2'FL HMOs.
Breast is best for babies.
But when breast is not available, it's good to know this new immune-system boosting formula is on the shelf. 
Have You Read These Yet?
This post was sponsored by Abbott, who has been studying HMOs for many years. They are committed to helping formula-fed babies have these immune-nourishing ingredients.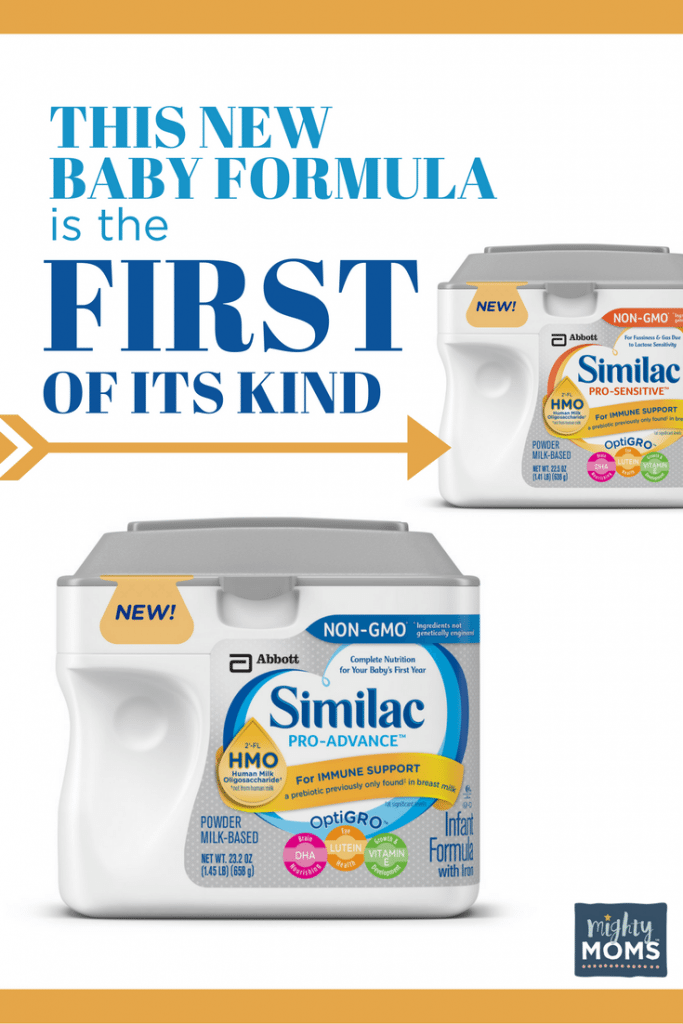 Comments