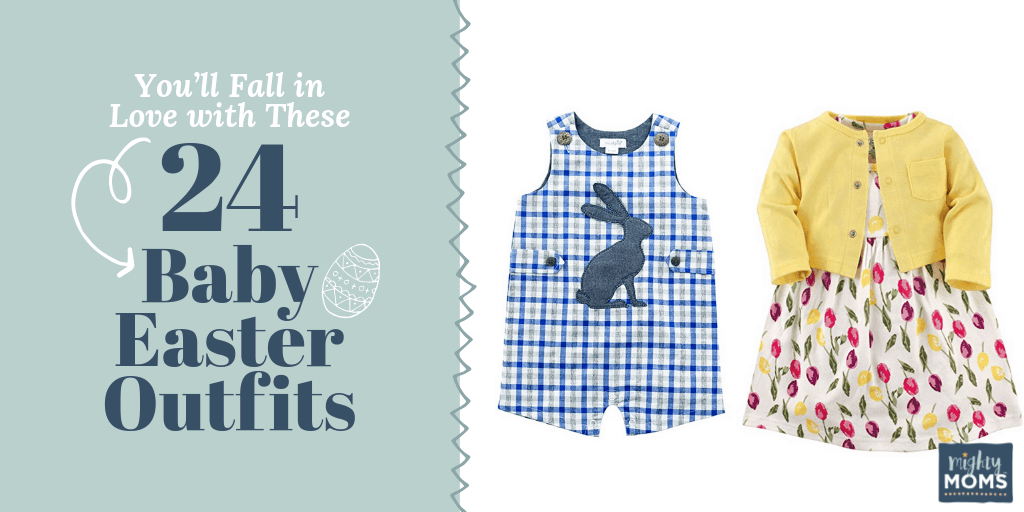 Brace yourself.
Easter is coming.
Those heart-melting, sigh-producing baby Easter outfits are out there…just waiting for you. They suck you in…tempting you to put a gorgeous frame on the masterpiece you've created.
Sure, that masterpiece may be running around right now with a hair-tangle the size of Texas on the back of her head, but by the time the Easter camera is poised and ready to shoot, she'll be red-carpet ready.  
Today's article came out of my own "search and destroy" mission to hunt up some really well-dressed infant Easter outfit options. I wanted adorable AND I wanted affordable.  Fortunately, I think I nailed it on both!
12 Adorable
Baby Easter Outfits for Girls
Obviously, you could probably drown in an ocean of adorable baby easter outfits for girls, there are so many to choose from.  In an effort to save you from yourself, though, I've collected six of what I think are the most unique and precious styles in this year's line-up.
From bunnies to lemons, your baby's Easter photos are going to be precious enough to warrant a spot on the wall. Even better, these prices start at $7, which just leaves more room in the budget for some pretty awesome Easter basket fillers.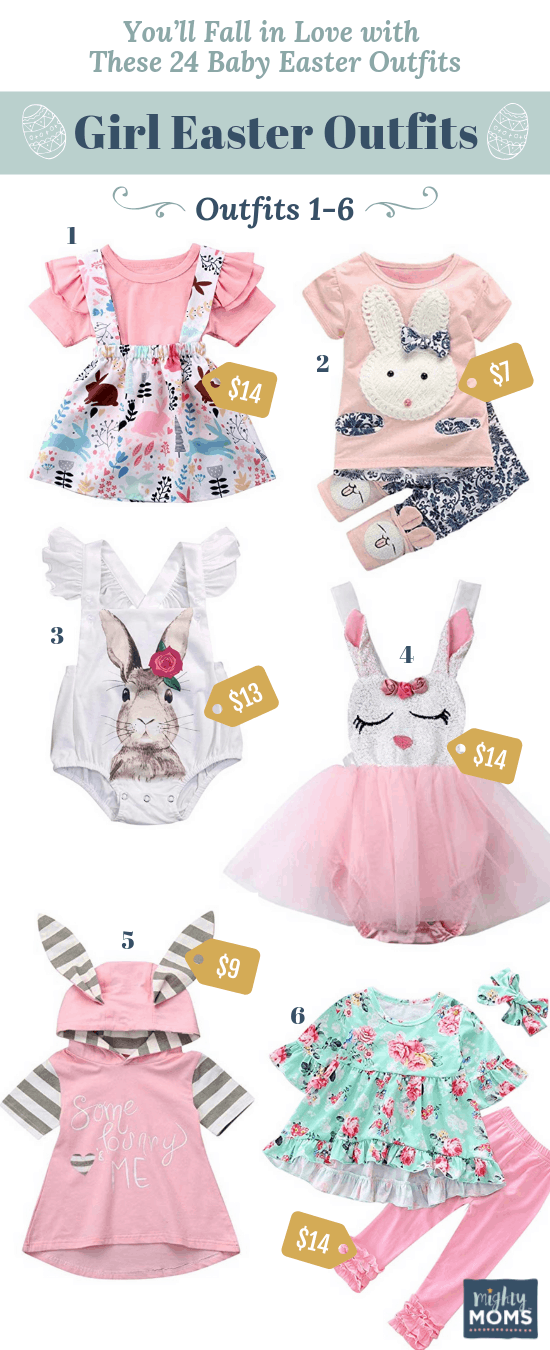 Infant Easter Dresses & Outfits
1. Ruffle Romper | 2. Bunny with Blue Leggings
3. Rabbit Onesie | 4. Lil' Rabbit Tutu
5. Striped-Eared Play Dress | 6. Floral Shirt & Leggings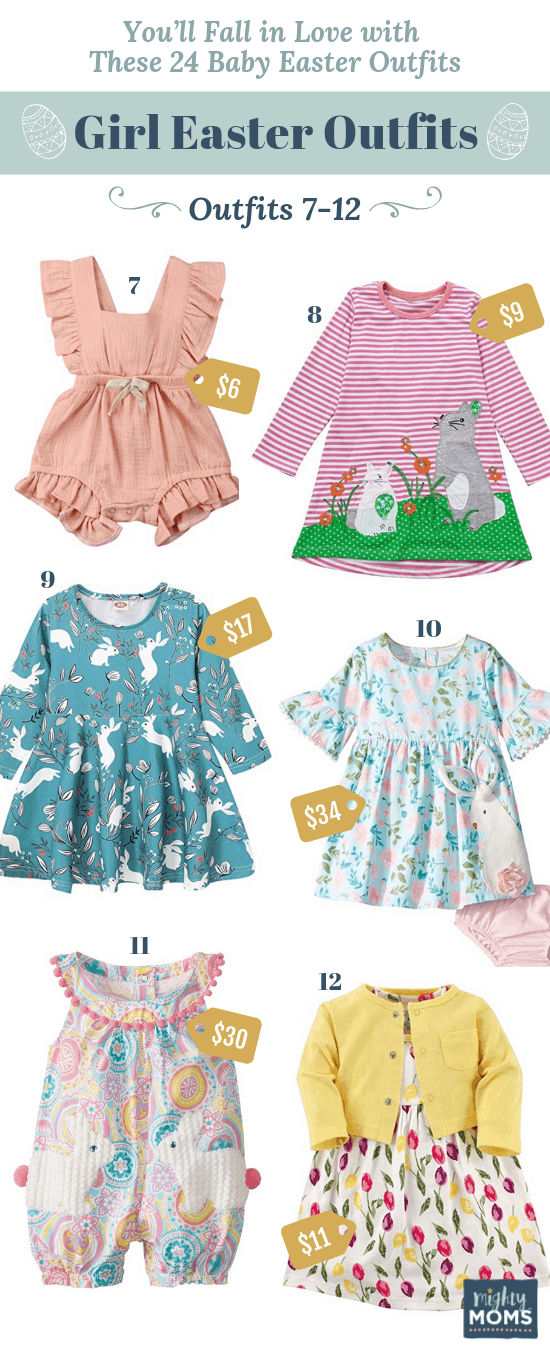 Baby Easter Dresses & Outfits
7. Linen Easter Romper | 8. Stripped Playdress
9. Blue Bunny Dress | 10. Ruffled Sleeve Satin
11. Bunny Pocket Romper | 12. Tulip Dress
12 Irresistible
Baby Easter Outfits for Boys
I know that everyone always sighs and twitters about the baby easter outfits for girls…but for me it's always been the opposite. (With three girls, I guess you always want what you don't have, right?)
I'm a sucker for pint-sized suspenders. I blubber over tiny bow-ties. There is something just so sweet about seeing a Little Man all dressed up like Dapper Dan…especially when you didn't have to break the budget doing it!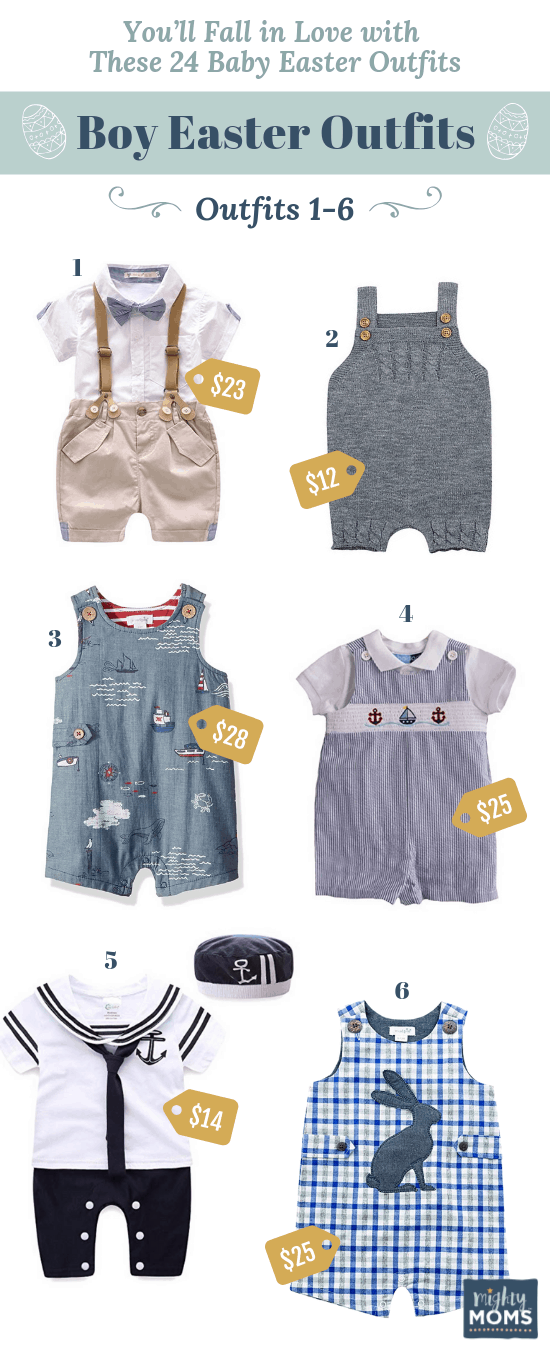 Charming Baby Easter Outfits for Boys
1. Bow Tie & Suspenders | 2. Knitted Overalls
3. Nautical Chambray | 4. Seersucker Shortall
5. Easter Sailor with Hat | 6. Gingham Rabbit
Charming Infant Easter Outfits for Boys
1. 3-Piece Suit with Newsie Cap | 2. Green Easter Outfit
3. Blue Bunny Outfit | 4. Bow Tie One-Piece
5. Linen Sage Romper | 6. Bunny Hoodie
Do Your Future Self a Favor
Someday you're going to be flipping through a memory book (or at least a memory stick) and giggling with your, now grown-up, baby.
Together, you're going to view these baby Easter outfits with either horror or with honor.  
Don't worry Mom. I know that vomit-green plaid corduroy jumper you put me into for Easter 1978 was the best you could do with 70's fashion. I totally get it.
It's time to set aside that white shirt with the giant tomato soup stain that makes him look like a crazed Dexter. It's time to browse a bit and update his wardrobe with a few stain-free infant Easter outfits.
Someday, when you're watching these Easter memories in the wedding reception slideshow, you won't be tempted to  hide under the table or give disclaimers ("I swear baby bell-bottoms were IN!").
You can just sit back and point with pride.  "Look how irresistibly cute you were as a baby!"
And cry, of course.
Naturally.
Have You Read These Yet?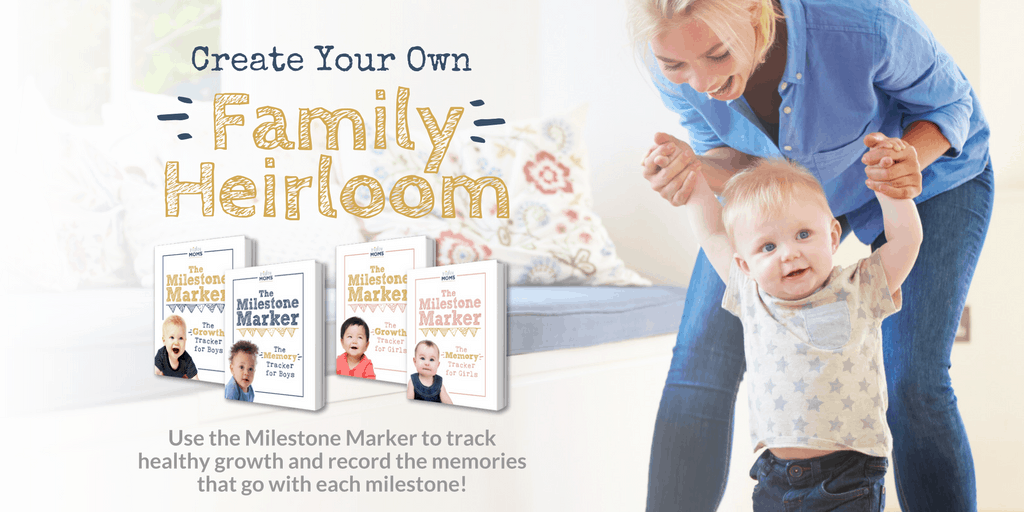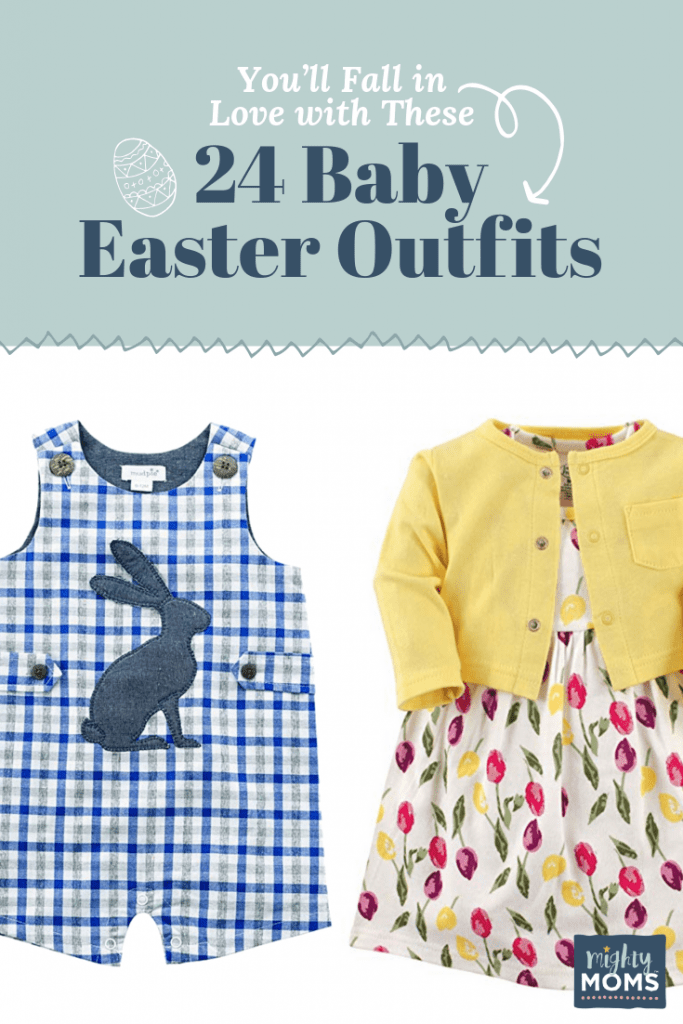 We ♥  honesty!  This post contains affiliate links that provide extra money for our mutual coffee habits addictions. Click here to learn more. As an Amazon Associate I earn from qualifying purchases.